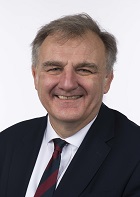 Mark Hackett
Chief Executive Officer
Swansea Bay University Health Board
1 Talbot Gateway, Baglan Energy Park, Baglan, Port TalbotSA12 7BR
About Me
Chief Executive Officer
Swansea Bay University Health Board are pleased to welcome Mr Mark Hackett, who joined as CEO on 1st January 2021. Mark brings with him over twenty years of experience as an NHS Chief Executive, as well as experience of system leadership roles in the NHS in England and of healthcare consultancy.
His depth of experience in successfully leading large and complex healthcare organisations makes him well placed to take Swansea Bay UHB forward.
He began his career in the NHS as a graduate management trainee in 1984 with a junior manager role in West Glamorgan in the late 1980s at Neath Port Talbot Hospital.